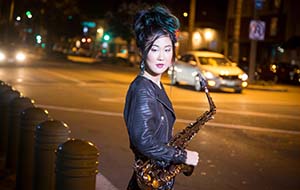 About the Show:

The Hanover Theatre and 90.5 WICN Public Radio, in collaboration with The Theatre District Alliance, are pleased to present Jazz at Sunset featuring singer, songwriter and sax player extraordinaire, Grace Kelly, and her band to a very limited audience of 50. Come and enjoy the cool sounds of live jazz while sipping on complimentary wine, beer, signature cocktails, soda or water and snacking on tasty treats at private tables on the Francis Carroll Plaza, directly in front of the theatre. While we are planning an event with the highest level of concern for everyone's safety, if you'd rather enjoy the concert from home, we also plan to livestream the event.  Attendees should be aware that they may be visible as audience members to home viewers.

 
Helpful Hints
1. Enter username and password or create account in login box located on left. If you have not logged into your online account before, please use temporary password "hanover." 
2. If you have a promo code, enter it into the promotional code box located on left.
3. Select desired performance, seat and price.
4. Click "add to order," located in bottom right corner.
5. Continue to check out.