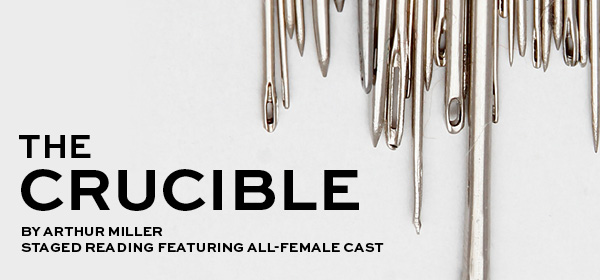 The Crucible by Arthur Miller
An Experimental Staged Reading Directed by Livy Scanlon Featuring an All-Female Cast 
ABOUT THE PLAY. Widely considered one of the greatest American plays ever written, The Crucible dramatizes the Salem, MA witch trials of the late 1600s. Miller originally wrote the piece in response to the McCarthy-era communist "witch hunt" that gripped the United States in the 1950s.
ABOUT THT REP'S STAGED READING. THT Rep Artistic Director Livy Scanlon is curious to see how the play's themes of misogyny, hate and fear mongering, religious extremism and persecution against women resonate in today's world when an all-female cast plays both the womens' and mens' roles. Join us for a staged reading to explore this concept, ask questions and give your feedback at an optional post-reading community dialogue. 
ABOUT THT REP'S TIERED TICKETING. To cultivate community and equity, THT Rep offers an innovative tiered ticket pricing model that lets patrons choose what they pay based on the honor system and the following information: 
Subsidized Tickets ($8 + $3 Fee) . To make our shows accessible, we offer this lowest price point for students, seniors or anyone else served by this option. 
Standard Full Price Tickets ($35 + $3 Fee) . Did you know "full price" tickets rarely, if ever, cover the costs associated with producing a show?  Given that knowledge, we believe people are honest and honorable, and that those who can pay this standard price of admission will do so as a gesture of support for our work.
True Cost Tickets ($55 + $3 Fee) . For ticket sales to cover all the direct costs associated with producing our season of work, we'd have to sell every seat to every performance at this price point.
Angel Tickets ($110 + $3 Fee) . For ticket sales to cover all our costs and ensure a sustainable future for THT Rep, we'd have to sell every seat to every performance at this price point.
ABOUT THT REP. An initiative of The Hanover Theatre and Conservatory for the Performing Arts, THT Rep makes professional plays in Worcester, for Worcester.  We energize, entertain and engage audiences with fresh stagings of classic, modern classic, and classics-inspired works. 
ABOUT THE VENUE. With its industrial aesthetic and intimate seating, the BrickBox Theater at the Jean McDonough Arts Center is the perfect home for THT Rep.
-
This staged reading of The Crucible is presented by special arrangement with Dramatists Play Service, Inc., New York.

Helpful Hints
1. Enter username and password or create account in login box located on left. If you have not logged into your online account before, please use temporary password "BrickBox". If you have a Hanover Theatre account, you can use your same password here.
2. If you have a promo code, enter it into the promotional code box located on left.
3. Select desired performance, seat and price.
4. Click "add to order," located in bottom right corner.
5. Continue to check out.