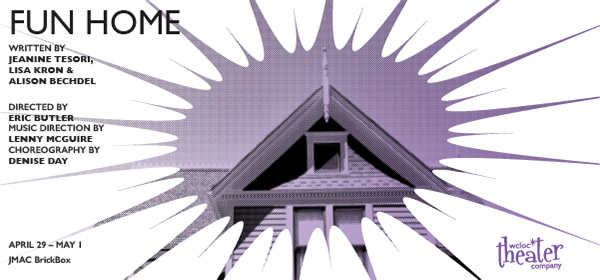 Fun Home
By Jeanine Tesori, Lisa Kron, and Alison Bechdel 
Directed by Eric Butler
Music Directed by Lenny McGuire
Choreographed by Denise Day​
When her father dies unexpectedly, graphic novelist Alison dives deep into her past to tell the story of the volatile, brilliant, one-of-a-kind man whose temperament and secrets defined her family and her life. Moving between past and present, Alison relives her unique childhood playing at the family's Bechdel Funeral Home, her growing understanding of her own sexuality, and the looming, unanswerable questions about her father's hidden desires. Fun Home is a refreshingly honest, wholly original musical about seeing your parents through grown-up eyes.
#WCLOCTheater #FunHome #WACFunded

Helpful Hints
1. Enter username and password or create account in login box located on left. If you have not logged into your online account before, please use temporary password "BrickBox". If you have a Hanover Theatre account, you can use your same password here.
2. If you have a promo code, enter it into the promotional code box located on left.
3. Select desired performance, seat and price.
4. Click "add to order," located in bottom right corner.
5. Continue to check out.