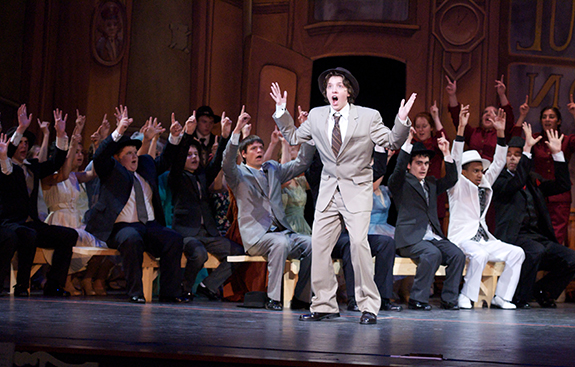 YSP Teen (Ages 13-18)
Three Weeks
Session I: July 10 – July 29
Session II: July 31 – August 19
Monday-Friday, 9am-3pm
Our teen program, now in its 9th year, offers students, ages 13-18, daily morning classes focusing on music, drama, and dance as well as afternoon rehearsals for a final production. Two sessions will be offered. Students will present three performances of a full-scale Broadway musical at the end of each session (Friday at 7pm and Saturday at 2pm & 7pm).  Teachers and directors for both sessions include the following well-known instructors: Meghan Montaner (drama- YSP I & II), Kallin Johnson (music- YSP I), Stephen Trombley (music- YSP II),  Jennifer Agbay (dance- YSP I), and Mark Harootian (dance- YSP II). The 2017 production will be Guys and Dolls.

Deposit
A $250 non-refundable deposit must be made at the time of registration. The balance of $600 is due no later than May 31 and is also non-refundable.
Registration
Registration for all programs will open on Friday, February 24, 2017 at 10am. Conservatory students receive early access at 10am on Thursday, February 23, 2017.
Purchase
one
ticket to the appropriate listing above
At the time of registration, you may choose to pay just the deposit or the full tuition. Please fill-in all requested information about your student online. Once you complete your order, you will have registered your student. A registration packet will arrive in the mail in April. You can also register by phone at 1.877.571.7469.
Schedule
Thursday, February 23, 2017 –  Registration Opens for Conservatory Students
Friday, February 24, 2017 –       Registration Opens for the Public
Wednesday, May 31, 2017 –      Balances are Due
YSP I Schedule
Monday, July 10, 2017 –  Program Begins
                                         Monday- Friday
                                         9am- 12pm Classes in Music, Drama, & Dance
                                         12pm-12:30pm Lunch (Students are asked to bring bag lunches)
                                         12:30pm-3pm Rehearsals                                          
*Please note that hours may be extended during tech week 7/24-7/28
Friday, July 28, 2017-       Performance of Guys and Dolls at 7pm
Saturday, July 29, 2017 – Performances of Guys and Dolls at 2pm & 7pm
YSP II Schedule
Monday, July 31, 2017 –  Program Begins
                                         Monday- Friday
                                         9am- 12pm Classes in Music, Drama, & Dance
                                         12pm-12:30pm Lunch (Students are asked to bring bag lunches)
                                         12:30pm-3pm Rehearsals                                          
*Please note that hours may be extended during tech week 8/14-8/18
Friday, August 18, 2017-       Performance of Guys and Dolls at 7pm
Saturday, August 19, 2017 – Performances of Guys and Dolls at 2pm & 7pm
Auditions
Auditions will take place during the first day of each program. Guys and Dolls has many featured male and female roles as well as an ensemble cast of characters. All roles will be filled by participants of the Teen Youth Summer Program. Cast size will be approximately 45. More information will be sent to registered students in June (YSP I) and July (YSP II) after their registration packet has been completed and returned.
About the Show: Guys and Dolls
Set in Damon Runyon's mythical New York City, Guys and Dolls is an oddball romantic comedy. Gambler, Nathan Detroit, tries to find the cash to set up the biggest craps game in town while the authorities breathe down his neck; meanwhile, his girlfriend and nightclub performer, Adelaide, laments that they've been engaged for fourteen years. Nathan turns to fellow gambler, Sky Masterson, for the dough, and Sky ends up chasing the straight-laced missionary, Sarah Brown, as a result. Guys and Dolls takes us from the heart of Times Square to the cafes of Havana, Cuba, and even into the sewers of New York City, but eventually everyone ends up right where they belong.
Meet Our Educators
Jennifer Agbay (Choreographer- YSP I)
is the celebrated director of the Ballet Arts Worcester whose production of the Nutcracker graces the stage at The Hanover Theatre each November.  She received a Bachelor of Science in Dance and Dance Education from New York University.  While in New York City Jennifer worked with several professional companies including The Washington Square Repertory Dance Company and the New York City based "Ballet for Young Audiences".  She was the director of dance at the Performing Arts School of Worcester and directed the Worcester Youth Ballet Company choreographed all school productions including the Nutcracker.  While at PASOW, Jennifer founded and directed, Company X, created for professional dancers.  The Company made its debut January 29, 2005 at the PASOW theatre.  She was selected by The Pulse Magazine as one of Worcester's 25 to watch in 2005.
Mark Harootian (Choreographer- YSP II)
is a native of Worcester and received his early training from the Performing Arts School of Worcester and Burncoat High's dance department. He attended the University of Utah on scholarship and graduated with a BFA in ballet performing and teaching. While there, he became a member of the Utah Ballet where he performed many leading roles and choreographed for the department's productions. Mark has performed at Disney's Epcot Center, the 2002 Salt Lake City Olympics Medal Plaza and the Festival of White Nights in Pushkin, Russia. From 2004-2011 Mark was a company dancer and choreographer for Festival Ballet Providence and from 2010 -2012 he was the company's Director of Educational Outreach. In 2007 and 2011, Mark was awarded the Fellowship Choreography Grant Award from the Rhode Island State Council of the Arts. The WEDF awarded him the Distinguished Alumni & Friends of the Worcester Public Schools Achievement Award in 2014. In addition, Mark previously taught and choreographed at Island Moving Company, Salve Regina University, Hong Kong Academy for Performing Arts, Red Shoe Dance Company, Ballet Arts Worcester, and Paula Meola's Dance. Currently, Mark is an adjunct professor at Dean College and Salve Regina and teaches and choreographs for Island Moving Company and Sally McDermott Dance Center.
Kallin Johnson (Music Director- YSP I)
is the director of music at Notre Dame Academy, a member of the Clark University music faculty and principle pianist for the Massachusetts Symphony Orchestra. He is the recipient of many awards including the 1994 Worcester Telegram & Gazette's Vision 2000 Cultural Enrichment Award.  Mr. Johnson holds a Master of Music degree from New England Conservatory and a Bachelor of Arts degree from Utah State University.   He is currently a member of the Board of Trustees for the Hanover Theatre.  Mr. Johnson was the founder/executive director of the Pakachoag Community Music School in Auburn, MA and a former director of music at the Performing Arts School of Worcester.  He served as executive director of the New England Theatre Company for eight years, and is a past president of both ARTSWorcester and the Massachusetts Music Teachers Association.
Meghan Montaner (Director- YSP I & II)
is the director of education at The Hanover Theatre and Conservatory for the Performing Arts.  In addition to her role in helping to open the 2300-seat Hanover Theatre in 2008 and The Hanover Theatre Conservatory in 2017, Meghan is a trained dancer, singer, and actress. For 13 years, she was the artistic director, producer, and choreographer for the Grafton High School Theatre Department where she made significant strides in production quality, student involvement and audience participation. She was the program director and intensives program coach for the Westborough Players Club Children's Musical Theatre Workshop from 2003-2009 and previously taught classes for the Foothills Theatre Children's Program. Meghan's work with the Worcester Public Schools garnered a Community Partner Award in 2012 and the Goddard Scholars Community Partner Appreciation Award in 2014. Her ground breaking Adopt-A-School Program, started in 2013, gained national attention for its achievements in incorporating arts into the core curriculum. Meghan was asked to present the program to the Education and Engagement Forum at the 2014 Broadway League Conference in NYC. Meghan holds a master's degree in theatre education from Emerson College where she was awarded the Dean's Fellowship Award.
Stephen Trombley (Music Director- YSP II)
has been the director of fine arts for the Grafton Public Schools and director of music at Grafton High School for over twenty years. He directs the band, jazz ensemble, and runs a flourishing guitar program. During his tenure in Grafton he has been the music director for numerous musicals. He holds a BA in Music from Westfield State University and a master's degree in curriculum and instruction from University of Phoenix. In addition to his teaching and directing, he is a busy musician playing over a hundred dates a year throughout New England with various groups. He has worked as Festival Coordinator for the MMEA All-State Music Festival and frequently hosts Central District musical festival auditions. He enjoys the energy and enthusiasm of musical theater and looks forward to working with like-minded groups.