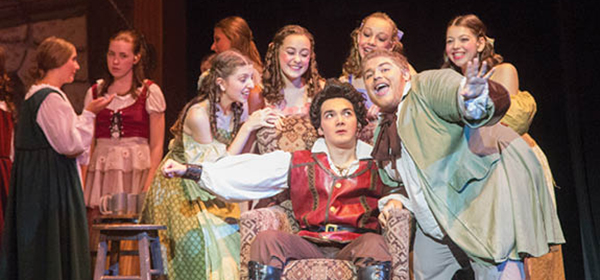 Audition signups open February 7 for conservatory students and February 8 for the general public.

More info:
Due to demand for the Teen Intensive, students must attend a qualifying audition on February 24 or March 9 before registering. In addition, students must be entering grades 9 through their freshman year of college in the fall. Students will be notified of their acceptance by March 15. Only qualifying students will be granted access to register on March 15. There is a non-refundable $25 application fee for the qualifying auditions (this fee is waived for conservatory students). Please note that these auditions will not determine roles for the musical, only qualification for the program.  
Decisions will be made by March 15  
Qualifying auditions will take place in the form of groups scheduled into 90-minute blocks. Auditions will evaluate students in areas of drama, dance and voice. Students will demonstrate acting and vocal skills through individual presentations of 32-bars of a Broadway song of their choice. Students will also learn and perform a piece of choreography in order for dance skills to be evaluated. 

Helpful Hints
1. Enter username and password or create account in login box located on left. If you have not logged into your online account before, please use temporary password "hanover." 
2. If you have a promo code, enter it into the promotional code box located on left.
3. Select desired performance, seat and price.
4. Click "add to order," located in bottom right corner.
5. Continue to check out.