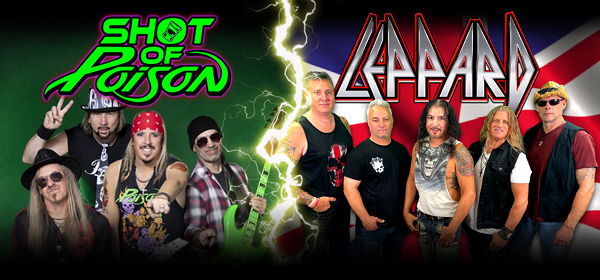 About the show:
Are you ready to relive the glory days of '80s rock?  The Titans event is a hit!  This spectacular concert features Shot of Poison and Leppard, two of the very top tributes to the two top-selling, chart-topping rock bands of the late '80s, Poison and Def Leppard.  Both bands are committed to flawlessly recreating the music to sound just like the original records. The hit songs you love are performed with high energy, a big-time, arena-rock feel, video show, stage props, awesome lighting, and special effects.  This is a show you won't soon forget, so bring your '80s rock buddies and together revisit the thrills and excitement of the glam metal era at its height! 

Limited VIP tickets are available, which include guaranteed premium seating, early entry and a meet-and-greet (including photo opps) with the bands.  
Looking for the Login Box?
Click My Account in the top menu bar or click the Login button in the top right corner of this window to log in.