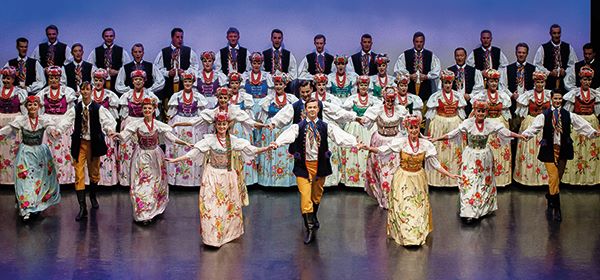 About the show:
The 'ŚLĄSK' Song and Dance Ensemble performs around 120 concerts a year. The Ensemble is named after the Silesia region ('Śląsk' in Polish), and the name of its founder to commemorate his undeniable contribution to the greatness of 'ŚLASK' and acclaimed position it has earned over the years.
It also prides itself on other accomplishments, having released 11 albums in the 'ŚLĄSK' Golden Collection, five Gold albums, one Platinum album. The quintessence of the Ensemble's artistic activity are the gala concerts performed by the group which are characterized by the liveliness, expression and professionalism of the Ensemble's artistic composition, featuring over 100 performers in the choir, ballet and orchestra. The dynamic nature of gala concerts and their colorful stage costumes create a spectacle that takes the audience on a journey to the world of picturesque folk culture.
Be sure to get seated early to enjoy a pre-show concert featuring the Mighty Wurlitzer Organ, the largest and most versatile theatre pipe organ in New England, led by resident organist and organ enthusiast Dr. Jonathan Kleefield.
Looking for the Login Box?
Click My Account in the top menu bar or click the Login button in the top right corner of this window to log in.