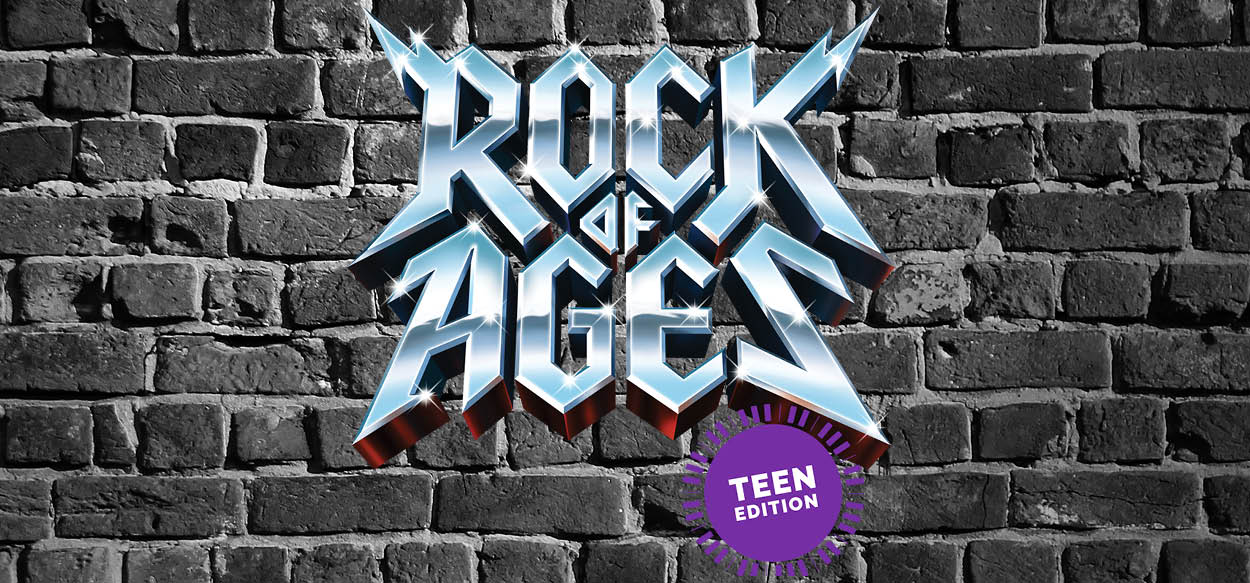 Artwork designed by AKA NYC
 
It's the tail end of the big, bad 1980s in Hollywood, and the party has been raging hard. Aqua Net, Lycra and Heavy Metal flow freely at one of the Sunset Strip's last legendary venues, a place where legendary rocker Stacee Jaxx takes the stage and groupies line up for their chance at an autograph. Amidst the madness, aspiring rock star (and resident toilet cleaner) Drew longs to take the stage as the next big thing (and longs for small-town girl Sherri, fresh off the bus from Kansas with stars in her eyes). But the rock 'n' roll fairy tale is about to end when German developers sweep into town with plans to turn the fabled Strip into just another capitalist strip mall. Can Drew, Sherri and the gang save the strip – and themselves – before it's too late? Only the music of hit bands Styx, Journey, Bon Jovi, Whitesnake and more can hold the answer. Rock of Ages: Teen Edition takes you back to the times of big bands with big egos playing big guitar solos and sporting even bigger hair! This Tony Award-nominated Broadway musical features the hits of bands including Night Ranger, REO Speedwagon, Pat Benatar, Twisted Sister and others.
These performances will be held in The Brickbox Theater at 20 Franklin Street, Worcester.
Tickets are $25. Seating is general admission.
About the Youth Acting Company: YAC is our resident performance company, by invitation only. The company was created to give young, capable actors (ages 14-19) performance opportunities throughout the year with a variety of directors and performance genres.
Helpful Hints
1. Enter username and password or create account in login box located on left. If you have not logged into your online account before, please temporary password hanover1.
2. If you have a promo code, enter it into the promotional code box located on left.
3. Select desired performance, seat and price.
4. Click "add to order," located in bottom right corner.
5. Continue to check out.