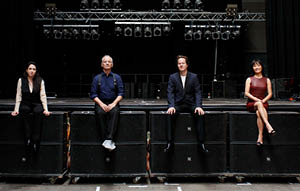 Bill Murray, Jan Vogler and Friends: New Worlds
An evening of music, poetry and prose
The Hollywood star's love for classical music is young and his art of language boundless, giving all the more reason to look forward to a fascinating encounter between great music and great literature featuring two masters of their art.
Instructions
1. Enter username and password or create account in Log in box located on left. (Previous customers who have not logged in since August 2013, use temporary password: hanover). You will be prompted to change it immediately.
2. If you have a promo code, enter it into the Promotional Code box located on left.
3. Select desired performance, seat, and price.
4. Click add to order located in bottom right corner.
5. Continue to check out.