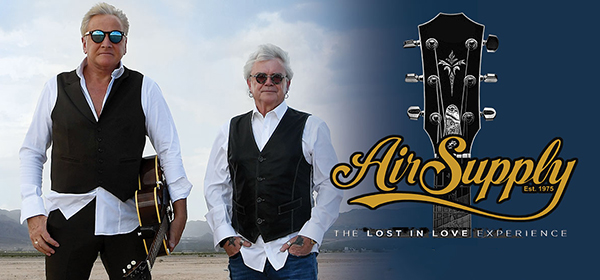 About the show:
Iconic Australian pop/rock duo
Air Supply
bring their latest tour to Worcester following the release of their newest live album, "Lost in Love Experience," recorded with the Prague Symphony Orchestra. With a career spanning over four decades, Graham Russell and Russell Hitchcock met on May 12, 1975, at rehearsals for "Jesus Christ Superstar" in Sydney, Australia. They became instant friends with their common love for The Beatles and, of course, singing. Since then, the duo continue to perform worldwide, with over 130 concerts annually, and just marked their 5,000th concert in Las Vegas.
Helpful Hints
1. Enter username and password or create account in login box located on left. If you have not logged into your online account before, please use temporary password "hanover." 
2. If you have a promo code, enter it into the promotional code box located on left.
3. Select desired performance, seat and price.
4. Click "add to order," located in bottom right corner.
5. Continue to check out.