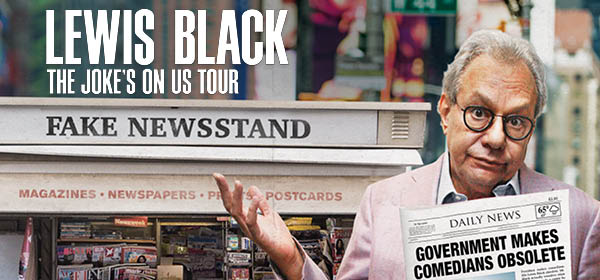 About the show:
Lewis Black executes a brilliant trifecta as a stand-up comedian, actor and author. His live performances provide a cathartic release of anger and disillusionment for the audience. Black is a passionate performer who is a more angry optimist than a mean-spirited curmudgeon. He is the rare comic who can cause an audience to laugh themselves into incontinence while making compelling points about the absurdity of the world.
Lewis Black came into national prominence with his appearances on "The Daily Show" in 1996. Those appearances led to comedy specials on HBO, Comedy Central, Showtime and Epix. In 2001, he won Best Male Stand-Up at the American Comedy Awards. He has released eight comedy albums, including his 2007 Grammy® Award-winning Carnegie Hall performance. He won his second Grammy® Award for his album "Stark Raving Black" and has published three bestselling books, "Nothing's Sacred" (Simon & Schuster, 2005), "Me of Little Faith" (Riverhead Books, 2008) and "I'm Dreaming of a Black Christmas" (Riverhead Books, 2010). In 2015, Black notably voiced the character "Anger" in the Academy® Award-winning film from Pixar, "Inside Out."

Helpful Hints
1. Enter username and password or create account in login box located on left. If you have not logged into your online account before, please use temporary password "hanover." 
2. If you have a promo code, enter it into the promotional code box located on left.
3. Select desired performance, seat and price.
4. Click "add to order," located in bottom right corner.
5. Continue to check out.