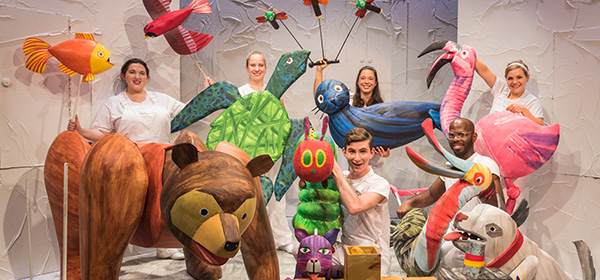 About the show:
Enjoy the delightful, theatrical adaptation of Eric Carle's beloved stories. "The Very Hungry Caterpillar" has delighted generations of readers since it was first published in 1969, selling more than 43 million copies worldwide. The timeless classic has made its way off the page and onto the stage. Created by Jonathan Rockefeller, the critically acclaimed production of The Very Hungry Caterpillar Show features a menagerie of 75 lovable puppets, faithfully adapting four of Eric Carle's stories: "Brown Bear, Brown Bear," "10 Little Rubber Ducks," "The Very Lonely Firefly" and of course, the star of the show, "The Very Hungry Caterpillar."

For information on school reservations for the 10 AM student matinee, contact Kelly Rourke at KRourke@thehanovertheatre.org.

Helpful Hints
1. Enter username and password or create account in login box located on left. If you have not logged into your online account before, please use temporary password "hanover." 
2. If you have a promo code, enter it into the promotional code box located on left.
3. Select desired performance, seat and price.
4. Click "add to order," located in bottom right corner.
5. Continue to check out.