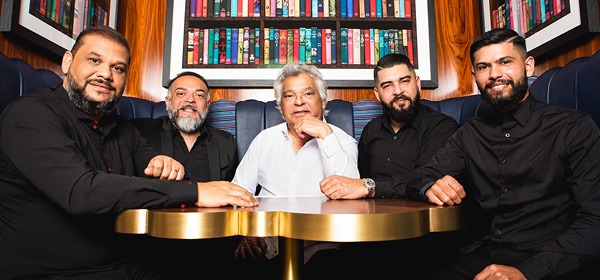 About the show:
Known for melding traditional flamenco styles with Western pop and Latin rhythm, Grammy® award winning band Gipsy Kings featuring Nicolas Reyes first captured the world's imagination in 1987 with a self-titled album that became a genuine phenomenon, certified gold and platinum around the globe.

Throughout their hugely successful career they've introduced millions of listeners to their unique sound through globally-popular singles such as Bamboléo and Volare.

Please note, there is a 8 ticket limit per order.

Autographed Memoir Bundle
- One Premium Reserved ticket to see Gipsy Kings ft. Nicolas Reyes live
- One copy of the new memoir, 'Becoming A King', autographed by Nicolas Reyes, mailed directly to you by the end of the year. In 'Becoming A King', international music great Nicolas Reyes shares his captivating journey from the gritty, itinerant life of a gypsy to international stardom.


Autographed Memoir Bundle purchasers will receive an email from support@seated.com about 48 hours prior to the event with instructions on how to redeem all elements of your package. Additional communication regarding your purchase may be sent via SMS text message to the phone number you provided during the purchase process. Package merchandise will be mailed to you by the end of the year. This offer is not valid for fan-to-fan resale and is non-transferable.
If you have questions regarding your purchase, please reach out to Seated's friendly Fan Experience team 7 days a week: e-mail - support@seated.com, phone - (855) 260-7328, text message - (855) 260-7328





Looking for the Login Box?
Click My Account in the top menu bar or click the Login button in the top right corner of this window to log in.