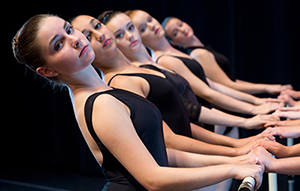 Summer Dance Intensive Week
Ages 5 and 6
August 13 – 17, 2018
9 AM – 12 PM
These classes are designed to introduce or enforce the fundamental stages of classical ballet, such as pre-ballet and creative movement, plus open the youngest dancers experience to newer genres of dance and their compliments such as jazz, modern and yoga. Students will love their time in ballet dances and stories as they will learn about ballet history's past through music and movement. 
Tuition: $225 (Non-Refundable)
Ages 7-12
August 13 – 17, 2018
9 AM – 12:30 PM
These students will refine and advance classical ballet training as the morning hours are dedicated to proper body alignment, technique, pre-pointe and ballet vocabulary. The students will also have fun learning other styles of dance, such as jazz, modern and contemporary! Other compliments to the secure ballet training will be stretch/strengthening/conditioning and yoga. Dance history, ballet variations, choreography/composition and stage makeup are also highlights to this program.
Tuition: $250 (Non-Refundable)
Instructions
1. Enter username and password or create account in Log in box located on left. (Previous customers who have not logged in since August 2013, use temporary password: hanover). You will be prompted to change it immediately.
2. If you have a promo code, enter it into the Promotional Code box located on left.
3. Select desired performance, seat, and price.
4. Click add to order located in bottom right corner.
5. Continue to check out.