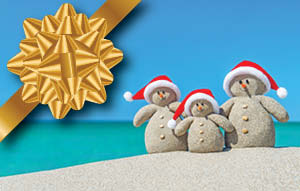 Get the best seats now with Christmas in July
On the beach or at the theatre, celebrating together keeps the summer festivity and spirit alive all year long! Plan now to spend a stress-free holiday season with friends and family at these holiday shows:
Start your holidays with our annual production of The Nutcracker  Thanksgiving Weekend, November 23 - 25.
ELF The Musical is back by popular demand, November 29 - December 2.
Holiday Pops returns with signature holiday tunes on December 7.
Worcester's family holiday tradition A Christmas Carol  returns December 15 - 23.
WGBH presents its annual production of A Christmas Celtic Sojourn with Brian O'Donovan December 18.
Keep your spirits bright all summer
Join us on Facebook , Twitter  and Instagram  throughout July for Christmas in July giveaways and promotions. 
Visit our booth on Thursdays at Out to Lunch  on the Worcester Common Oval and try our prize wheel!
Give the gift that lasts all year with a Broadway Series subscription . Consider a family subscription , with savings of up to $254 per student or child! Or treat yourself to a customized package for as low as eight payments of $36.
Instructions
1. Enter username and password or create account in Log in box located on left. (Previous customers who have not logged in since August 2013, use temporary password: hanover). You will be prompted to change it immediately.
2. If you have a promo code, enter it into the Promotional Code box located on left.
3. Select desired performance, seat, and price.
4. Click add to order located in bottom right corner.
5. Continue to check out.