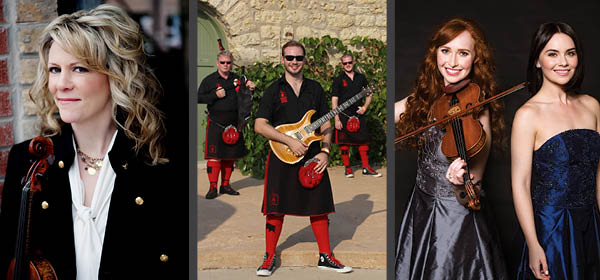 Celtic Celebrations
Rich, Celtic musical legacies collide with modern musicians in three unique shows with world class performers. Now, it's your turn to experience them.
The celebrated Celtic fiddler,
Natalie MacMaster
, returns to Worcester for the first time since 2013, this time joined by her husband and Leahy band member, Donnell Leahy. The fierce fiddling duo commands the stage with an explosive energy and passion for dancing, singing and, of course, world-class music making.
The achievements of the
Red Hot Chilli Pipers
have reached incredible heights with a groundbreaking fusion of traditional Scottish music and modern rock/pop anthems. With some of the very best musicians from Scotland and across the globe, The Chillis have never been more in demand for their infectious style of feel good music.
Global musical sensation
Celtic Woman
's concerts have touched the hearts of an audience that spans the globe. Both an accomplished recording ensemble and a world-class performing collective, Celtic Woman celebrates Ireland's rich musical and cultural heritage, while continuing its remarkable legacy of introducing some of Ireland's most talented singers and musicians onto the world stage.

Helpful Hints
1. Enter username and password or create account in login box located on left. If you have not logged into your online account before, please use temporary password "hanover." 
2. If you have a promo code, enter it into the promotional code box located on left.
3. Select desired performance, seat and price.
4. Click "add to order," located in bottom right corner.
5. Continue to check out.