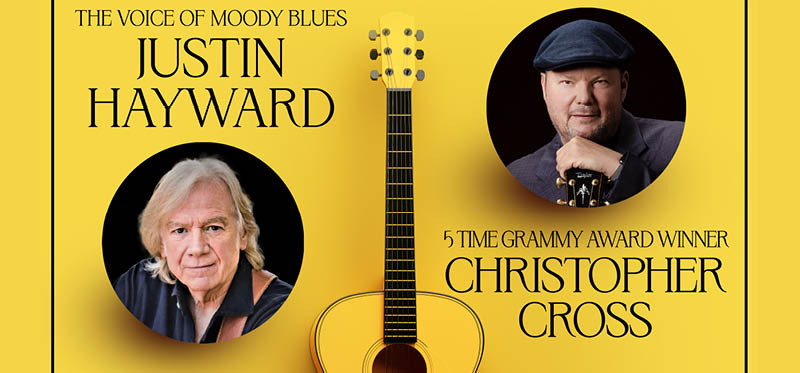 About the show:
Two of music's most iconic voices, live on stage!
Christopher Cross
Christopher Cross burst onto the music scene with his 1980 self-titled debut album, winning five Grammy®Awards, including—for the first time in Grammy® history—the "Big Four" most prestigious awards: Record of the Year (for the single "Sailing"), Album of the Year, Song of the Year (also "Sailing"), and Best New Artist. In a career spanning more than four decades, Cross has sold over 10 million albums. His music has garnered five Grammys®, an Oscar®, a Golden Globe®, an Emmy® nomination and five Top 10 singles.
Justin Hayward
Having chalked up over fifty years at the peak of the music and entertainment industry, Justin Hayward's voice has been heard the world over. Known principally as the vocalist, lead guitarist and composer for the Moody Blues ("Nights in White Satin," "Tuesday Afternoon," "Your Wildest Dreams"), his is an enduring talent that has helped to define the times in which he worked. Over years the band has sold mote than fifty five million albums and received numerous awards. Commercial success has gone hand in hand with critical acclaim, The Moody Blues are renowned the world over as innovators and trail blazers who have influenced any number of fellow artists. In 2018, along with the other members of The Moody Blues, Justin was inducted into the legendary Rock and Roll Hall of Fame.
VIP PACKAGE INFO:

Christopher Cross Premium Ticket and Merch Package: $199
One (1) Premium Seat to the Show
Exclusive Christopher Cross Tote Bag
Exclusive Poster signed by Christopher Cross
Exclusive Christopher Cross VIP Merch Item
Commemorative Christopher Cross Ticket

Justin Hayward Premium Ticket and Merch Package: $199
One (1) Premium Seat to the Show
Exclusive Justin Hayward T-Shirt
Exclusive Justin Hayward Signed Poster
Exclusive VIP Merchandise Item
Delivery Restrictions: Will-Call only
Merchandise items are shipped the week of the show date to the address provided on the order. Merchandise subject to change. For questions related to your VIP order email: VIP@OneLive.com or call 877.717.5816.
Looking for the Login Box?
Click My Account in the top menu bar or click the Login button in the top right corner of this window to log in.