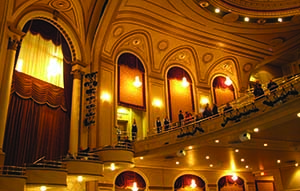 Show Description
The Hanover Theatre staff, founders and members of the board have been informally giving tours of the theatre since before our doors opened in March 2008.  In the beginning, there were "Hard-Hat" and "Touch the Dome" tours, small adventures that explored the construction site and led brave visitors up our highest scaffolding during the final months of the theatre's restoration.

Last season, the theatre launched regular tours of our magnificent architectural landmark, starting with the first Founders' Tour led by original theatre founders, Ed Madaus and Paul Demoga.  During these monthly tours, Ed & Paul serve as guides sharing their personal stories and recollections of the early days before the theatre's opening. You'll be amazed to learn about the perseverance and grit it took to make a city project as significant and daunting as the theatre come to fruition. The tours conclude with an introduction and demonstration of the theatre's Mighty Wurlitzer Organ, given by Don Phipps, the Wurlitzer Organ curator and director of The American Theatre Organ Society Inc.
Instructions
1. Enter username and password or create account in Log in box located on left. (Previous customers who have not logged in since August 2013, use temporary password: hanover). You will be prompted to change it immediately.
2. If you have a promo code, enter it into the Promotional Code box located on left.
3. Select desired performance, seat, and price.
4. Click add to order located in bottom right corner.
5. Continue to check out.