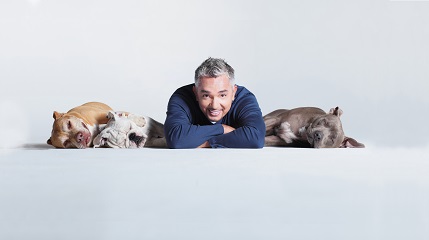 Show Description
Cesar Millan, original host of NatGeo "Wild's Dog Whisperer" series and star of the new hit series "Cesar 911" on NatGeo WILD, will reveal the secrets of happier, healthier relationships between humans and their beloved canines in his exciting live show that has delighted audiences all over the world. Joined by his famous four-legged friend, Junior, Cesar will share his training secrets in his funny and entertaining way. Then watch Cesar in action as he performs his amazing training demonstrations with multiple dogs, live on stage!

From his years of experience, Cesar will show that for a transformation to take place in a dog, the real transformation quite often needs to take place in their human companion first. You'll be amazed and inspired by the simplicity with which Cesar's Way can bring harmony and balance into your and your dog's lives.
Instructions
1. Enter username and password or create account in Log in box located on left. (Previous customers who have not logged in since August 2013, use temporary password: hanover). You will be prompted to change it immediately.
2. If you have a promo code, enter it into the Promotional Code box located on left.
3. Select desired performance, seat, and price.
4. Click add to order located in bottom right corner.
5. Continue to check out.