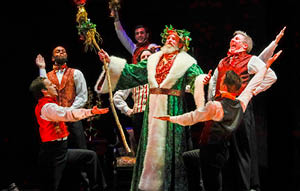 10th Anniversary Production of A Christmas Carol
"God Bless us, everyone!" Continue our family tradition and get in the holiday spirit with Troy Siebels' lavish and innovative adaptation of Charles Dickens' classic tale. You know the story, you love the message of Christmas redemption, and the love for mankind that the season brings. A Christmas Carol warms the hearts of audiences from the moment they walk in the door, charming over 19,000 patrons in 2015.
Instructions
1. Enter username and password or create account in Log in box located on left. (Previous customers who have not logged in since August 2013, use temporary password: hanover). You will be prompted to change it immediately.
2. If you have a promo code, enter it into the Promotional Code box located on left.
3. Select desired performance, seat, and price.
4. Click add to order located in bottom right corner.
5. Continue to check out.