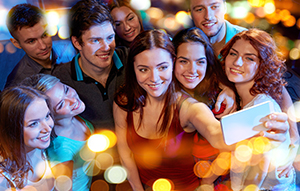 20 for $20 (PLEASE NOTE INSTRUCTIONS FOR CHECKOUT BELOW)
Are you a student, or just entering the "real world" and willing to be flexible about your seating? Choose three or more shows from over 20 performances for just $20 each. Participants must be under 40 years old and should be prepared to show their ID at will call.
This Month's Featured Shows:
CHEFS: The Sizzling Kitchen Showdown - February 17
"Iron Chef" meets "Magic Mike" in this sizzling and interactive kitchen showdown.
Something Rotten! - February 20
From the director of "Aladdin" and the co-director of "The Book of Mormon," "Something Rotten!" is "Broadway's big, fat hit!" (NY Post). Set in 1595, this hilarious smash tells the story of two brothers who set out to write the world's very first musical!
Shopkins Live! Shop It Up! - March 2
Shopkins Live! Shop It Up! is the first theatrical production based on America's #1 toy brand, Youtube sensation and international toy phenomenon created by Moose Toys.
Decades Rewind - March 10
Relive the best memories of your life with your favorite songs from the 60s to the 80s in this celebration of the "good old days."
Instructions
1. Enter user name and password using the login box located on the left or create a new account .
2. General Admission will be automatically selected. Choose the number of shows you wish to see. Note that the dropdown menus are for the number of tickets for each show, so if you select "3" next to "4 shows," you are actually purchasing 12 tickets. You must purchase tickets for at least three shows to qualify for 20 for $20. Click "Continue."
3. Click "Continue with These Seats." Please note that due to the nature of 20 for $20, an actual seat will not be assigned at time of purchase. Seats will be selected at the discretion of the box office based on availability on the day of the show.
4. Select the checkbox at checkout and click "Continue."
5. Fill out billing information. Select "Will Call" and click

"Continue."


6. Fill out payment information and select the shows you wish to attend under "Additional Information." Only select for the number of shows you are attending. Leave remaining fields blank.
7. Click "Buy" to complete purchase. Tickets will be held at will call under your last name.